Blogger and photographer Sophie Piearcey spends a magical evening in Lake Hāwea.
"I didn't know how much there was to do here, I thought we just used this road as a drive-through to the West Coast" exclaimed my adventure-loving husband as he took his third dive bomb off the rock into Lake Hāwea from the seclusion of our own private little cove.
This year is about new adventures, supporting local, getting out there, and having a damn good time at every chance you get, are you with me New Zealand? Good. I am telling you now, there is so much to do here in Lake Hāwea and we jumped at the chance to explore somewhere new, again.
Summer is here
Summer finally arrived here in New Zealand and wow, did she come with a bang. This weekend we got hit with 30 degree lake days, warm enough that jumping into a glacially-fed lake is the only option to cool down and we were definitely not complaining about it.
Lake Hāwea is an easy 15-minute scenic drive from Wānaka, on the road to Makarora and the West Coast. Here you will find the bluest lake, the most beautiful mountains, and a little pocket of adventure that is often overlooked. Hāwea is a local outdoor adventure paradise. You can boat, swim, kayak, ride, walk, surf (yes surf! more on that later), and laze in the summer sun on the beach. One of my favourite ever day hikes is right here in Hāwea, Isthmus Peak. A challenging 6-hour hike with the most epic reward.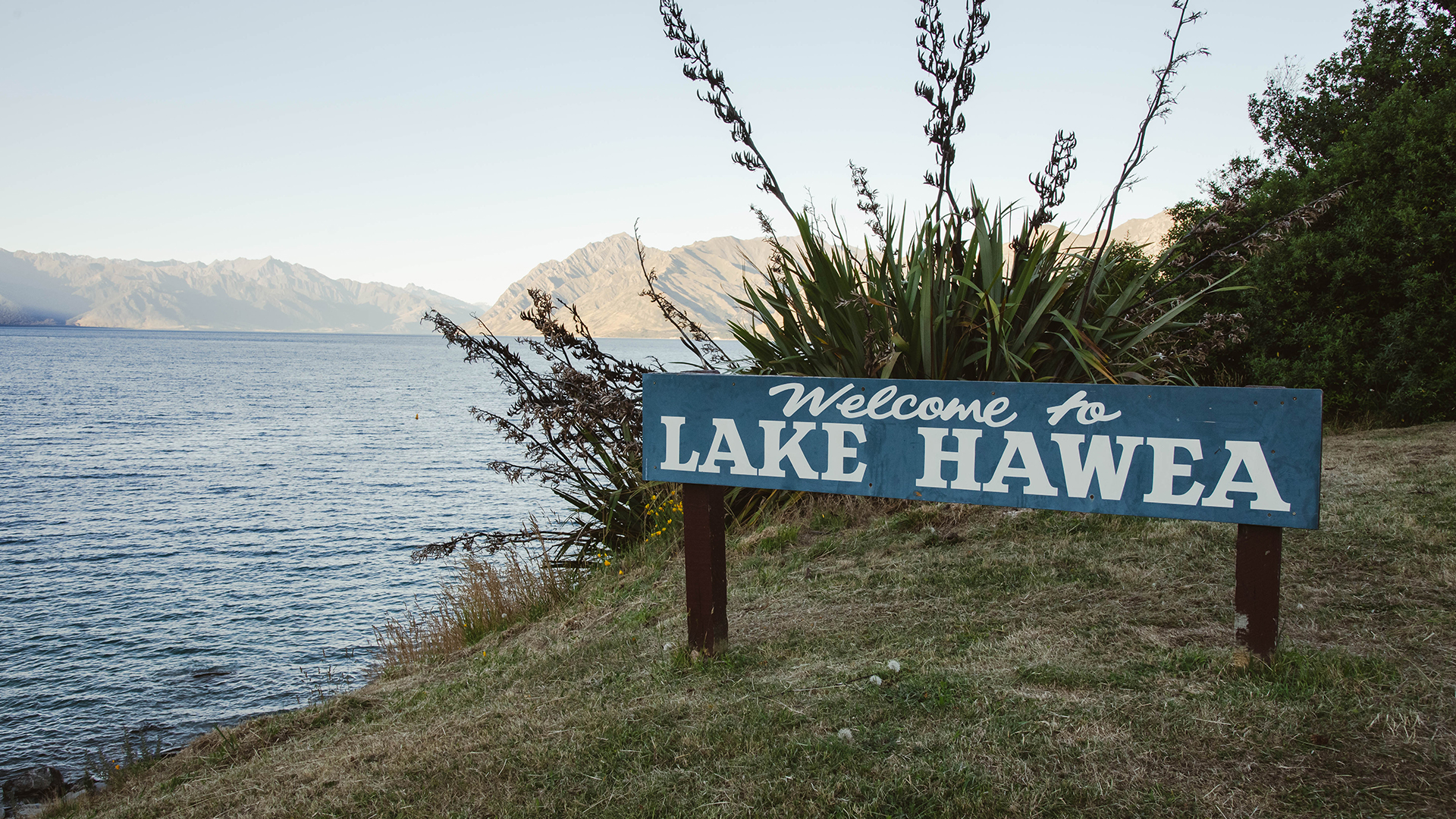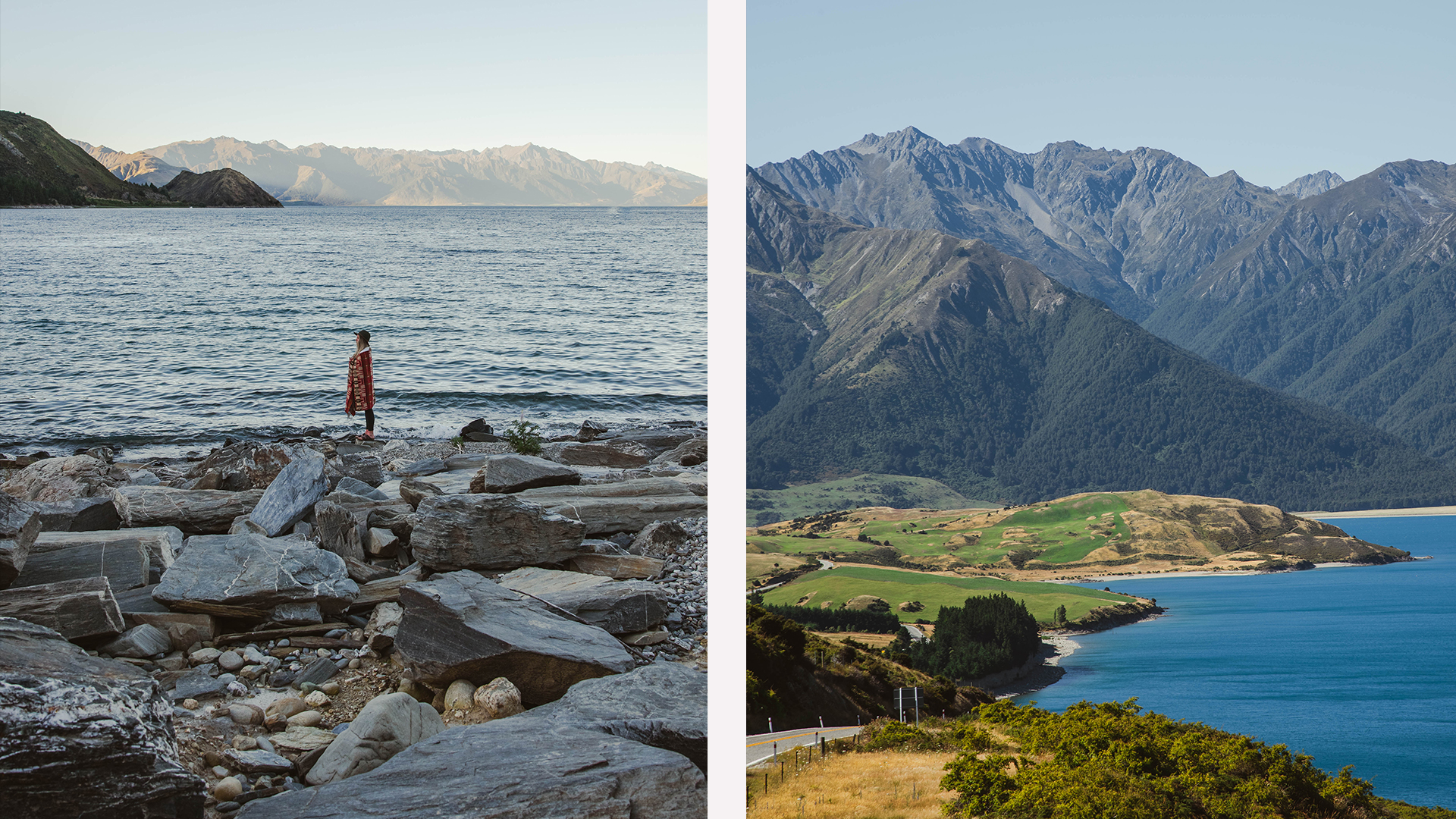 The Camp
We arrived at Lake Hāwea early morning and checked in to our accommodation for the evening. The Camp, formerly known as the Lake Hāwea Holiday Park is your next camping destination. Accommodation includes caravans, campervans, tents, cabins, and our humble abode for the evening, the Denver tents.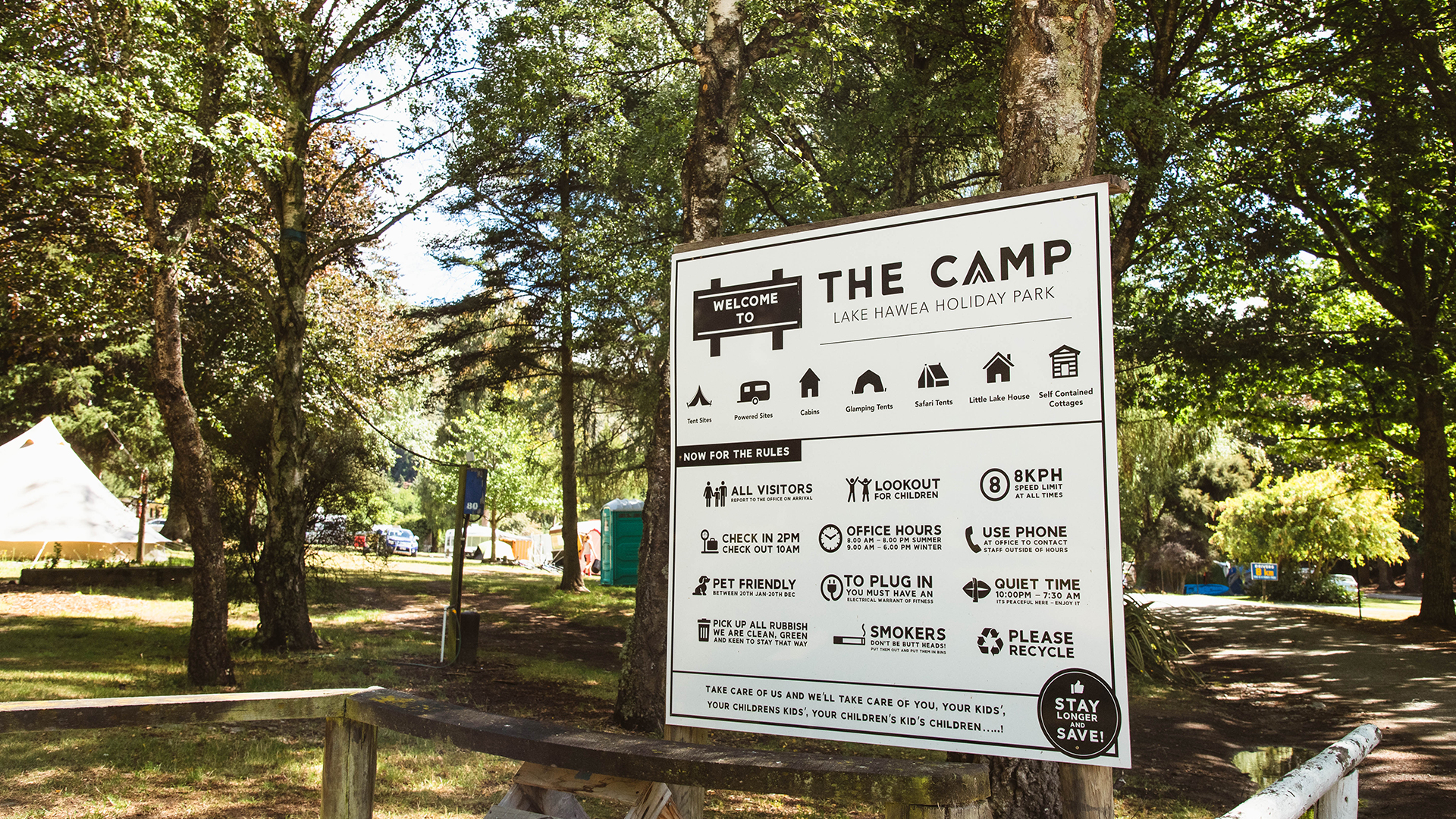 The staff greeted us with the biggest smiles, genuinely stoked to show us around their ever-developing property, and kindly walked us down to our tent. The Denver, Colorado Tents in Denver Cove are the perfect getaway destination for couples, friends, or just a night for you. The glamping setup offers uninterrupted views of the lake and mountains, a mess tent to prepare food, and access to a secret cove where rock jumping and lake swimming is a must!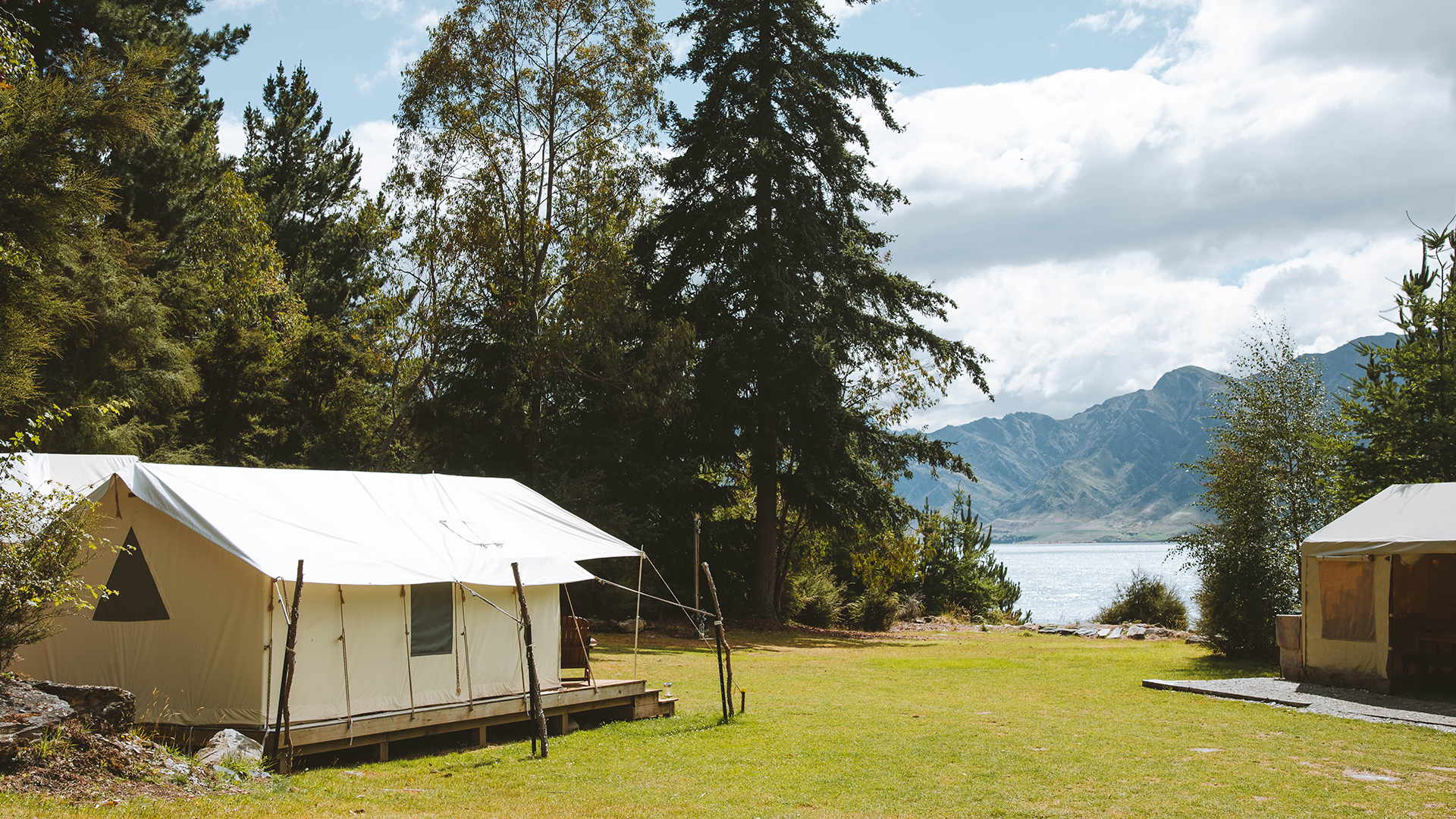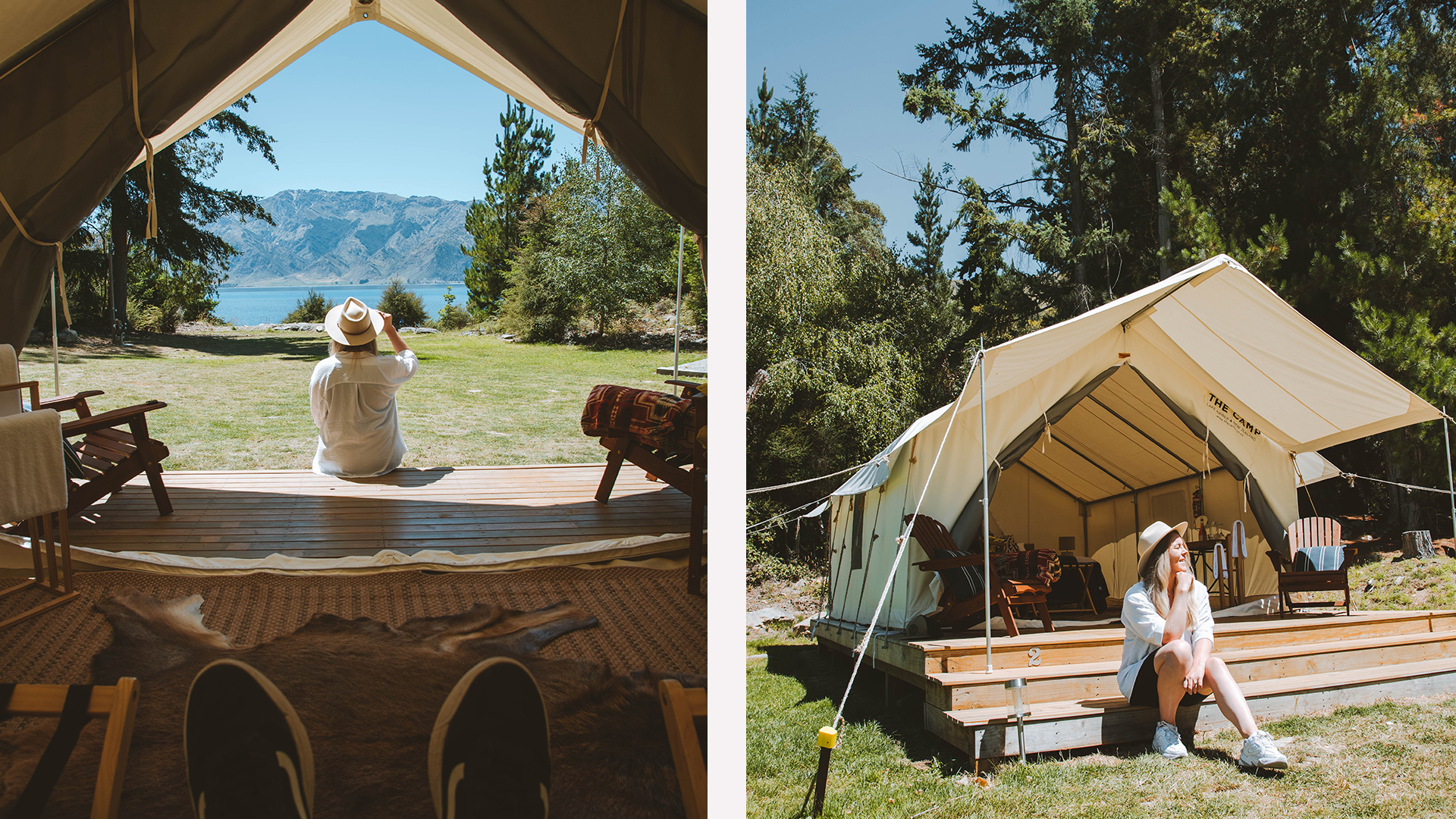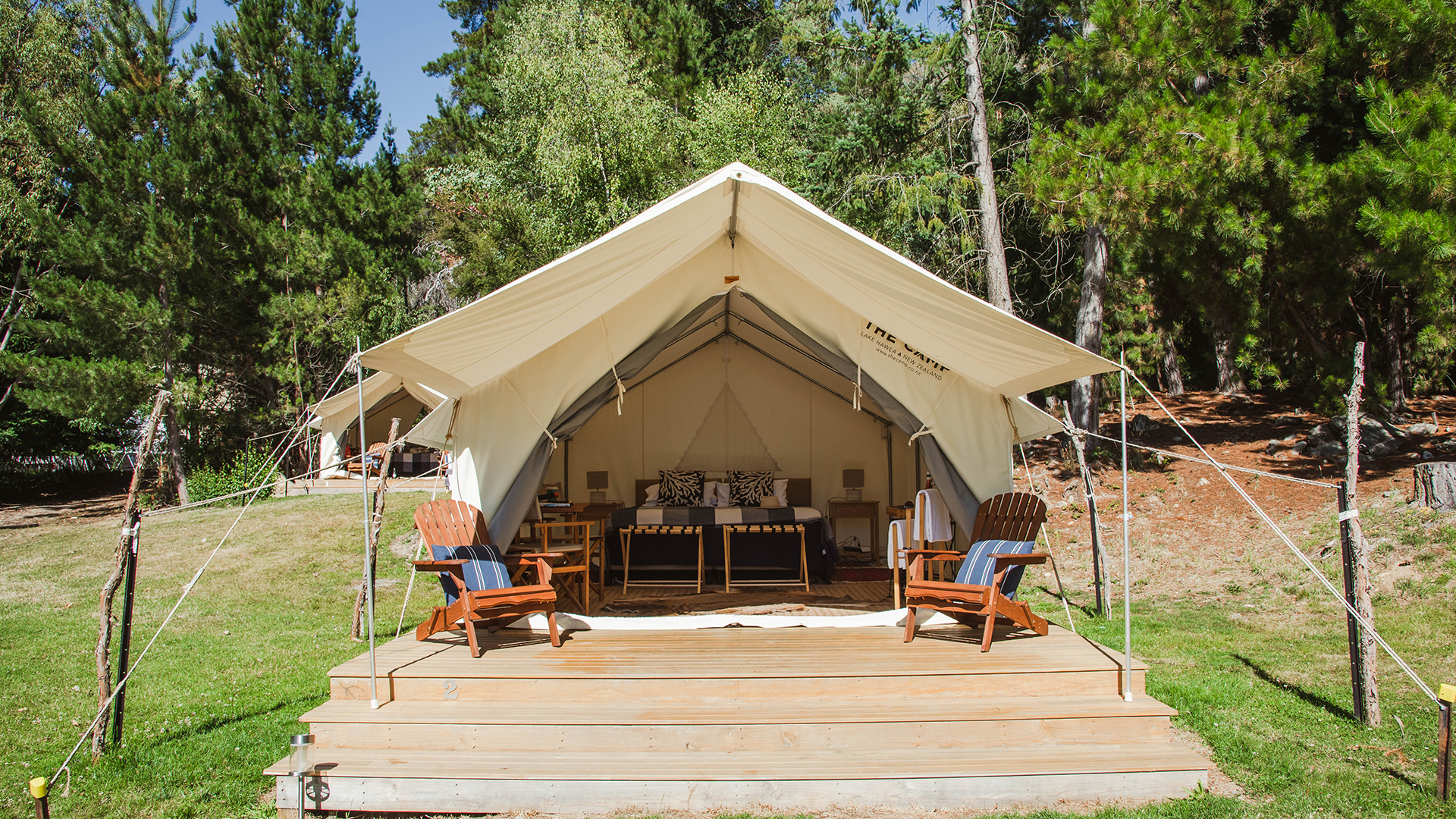 As we approached the tent and I saw the king-sized bed and homely details my heart did a little happy dance. It was modern, yet rustic, beautiful, and comfortable. Everything you need for a home away from home. We settled in and admired the views, that was until 2.5 seconds later Robbie hit the water for his first of many swims. We meandered down to the next bay and took the old school wooden canoe for a spin on the lake. It was still and calm. The water so pure you could see the bottom and the early morning sun warmed up our bodies.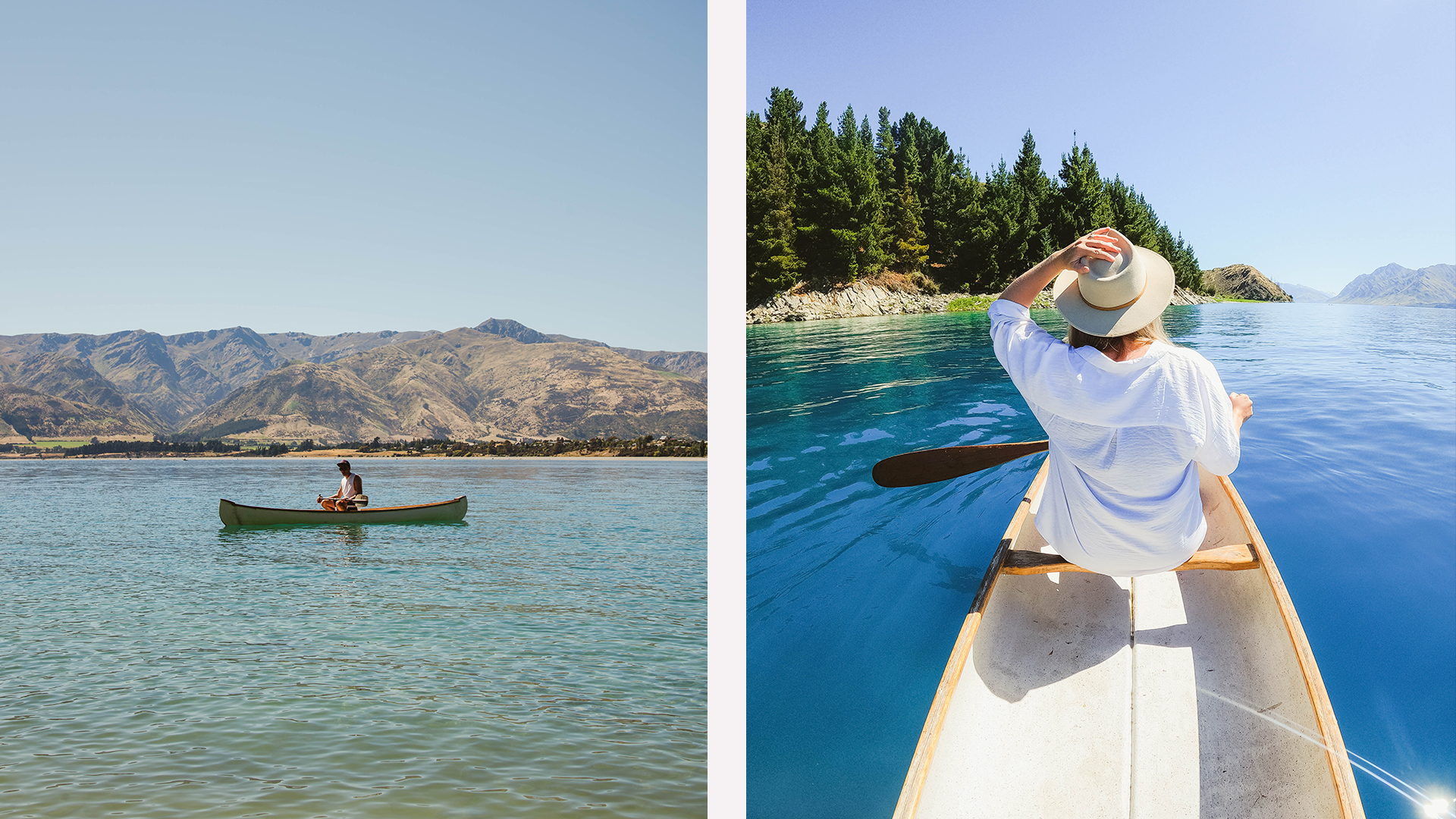 After an hour of balancing in the canoe together, one near capsize, and time spent floating into the morning light we slowly paddled back to shore to fuel up.
Happy hour
An ice block was most definitely deserved, as was another swim at our private little cove back at the Camp. We parked up just in time for our food truck delivery. On-site at the Camp, you will find a little food truck churning out the most delicious pizzas, fish and chips, burgers, and a breakfast menu too! They also have proper barista made coffee – hurrah for those who can't stand the instant stuff that people insist on bringing on camping trips.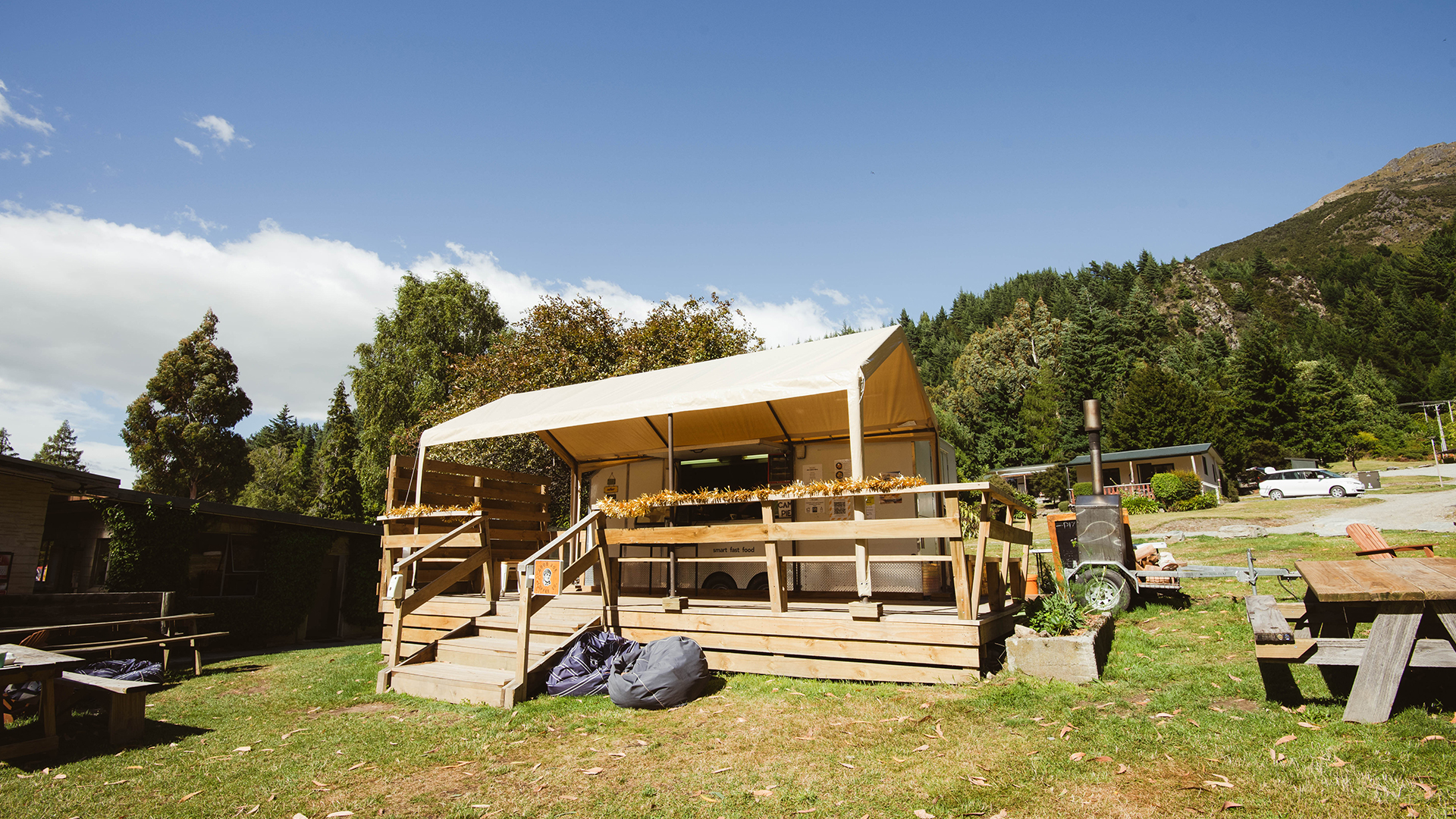 We indulged on a cheese grazing platter and a freshly made wood-fired mushroom pizza and damn… both so delicious. When staying in the Denver tents the crew will deliver your meals to your tent porch. Honestly, the perfect way to have dinner while sipping on a glass of rose watching the sun disappear over the mountains.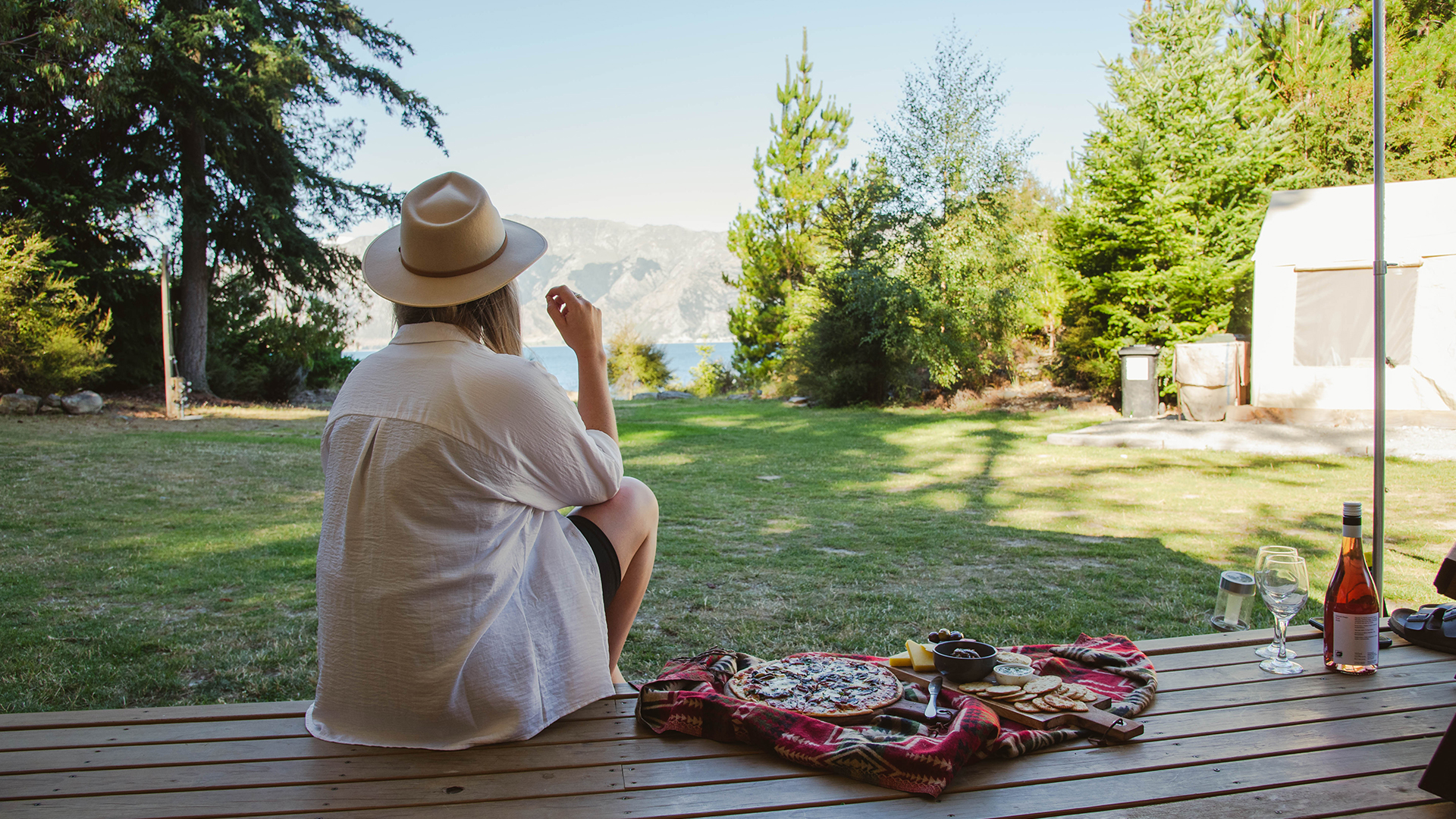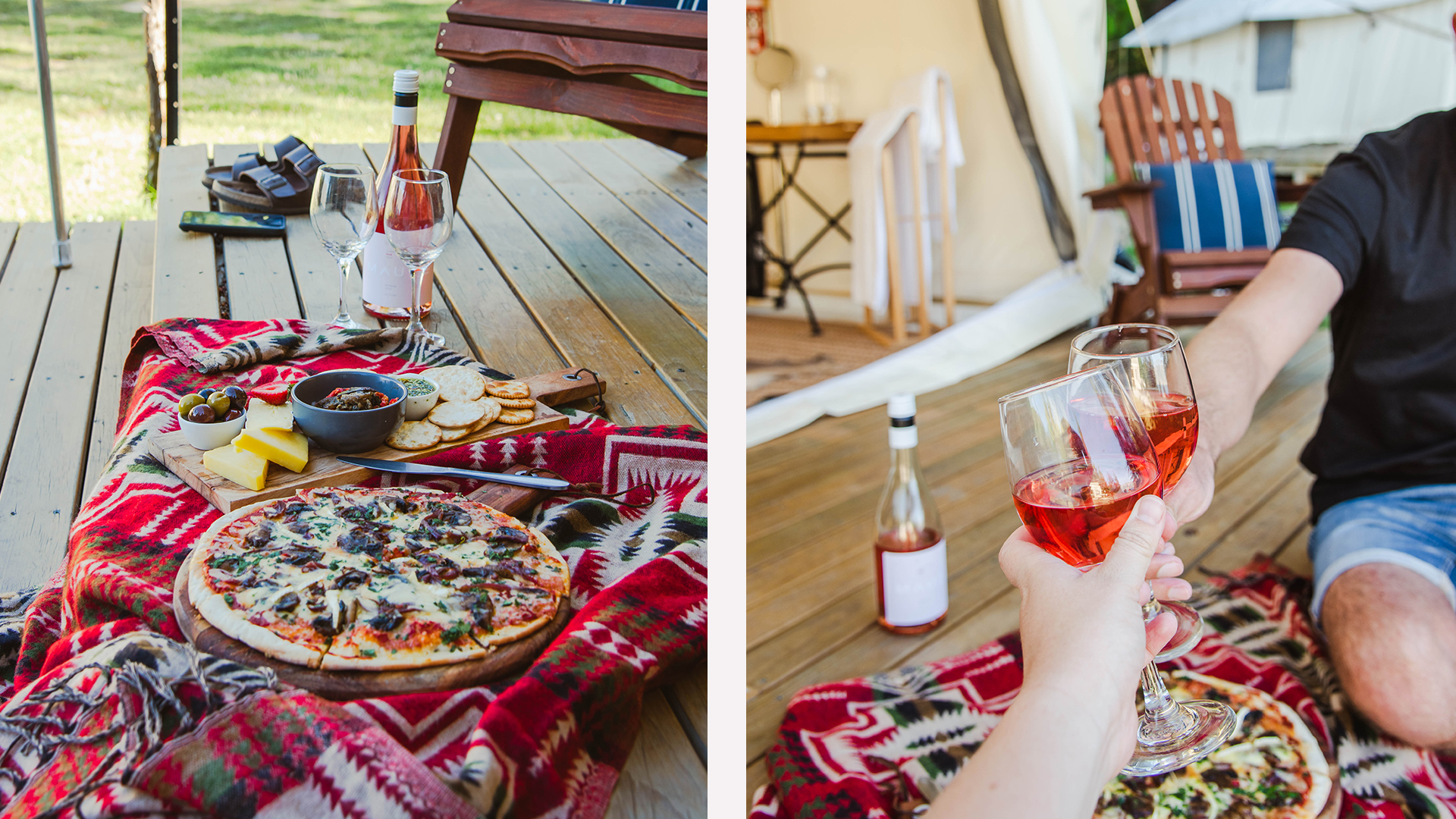 Settling for the night
Settling in for the night at our Denver tent after the most relaxing day was absolute bliss, we clambered into that big ol' king sized bed and laid awake under the fairy lights chatting away for hours. We fell asleep to the sound of the rain gently hitting the canvas roof and it sent me right through until morning. I must have been in such a state of relaxation that I forgot to switch out the lights, lucky for me the whole cast of A Bug's Life decided to make an appearance in the tent overnight keeping me entertained in the morning as I tried to clean up and pack to leave, reluctantly I might add.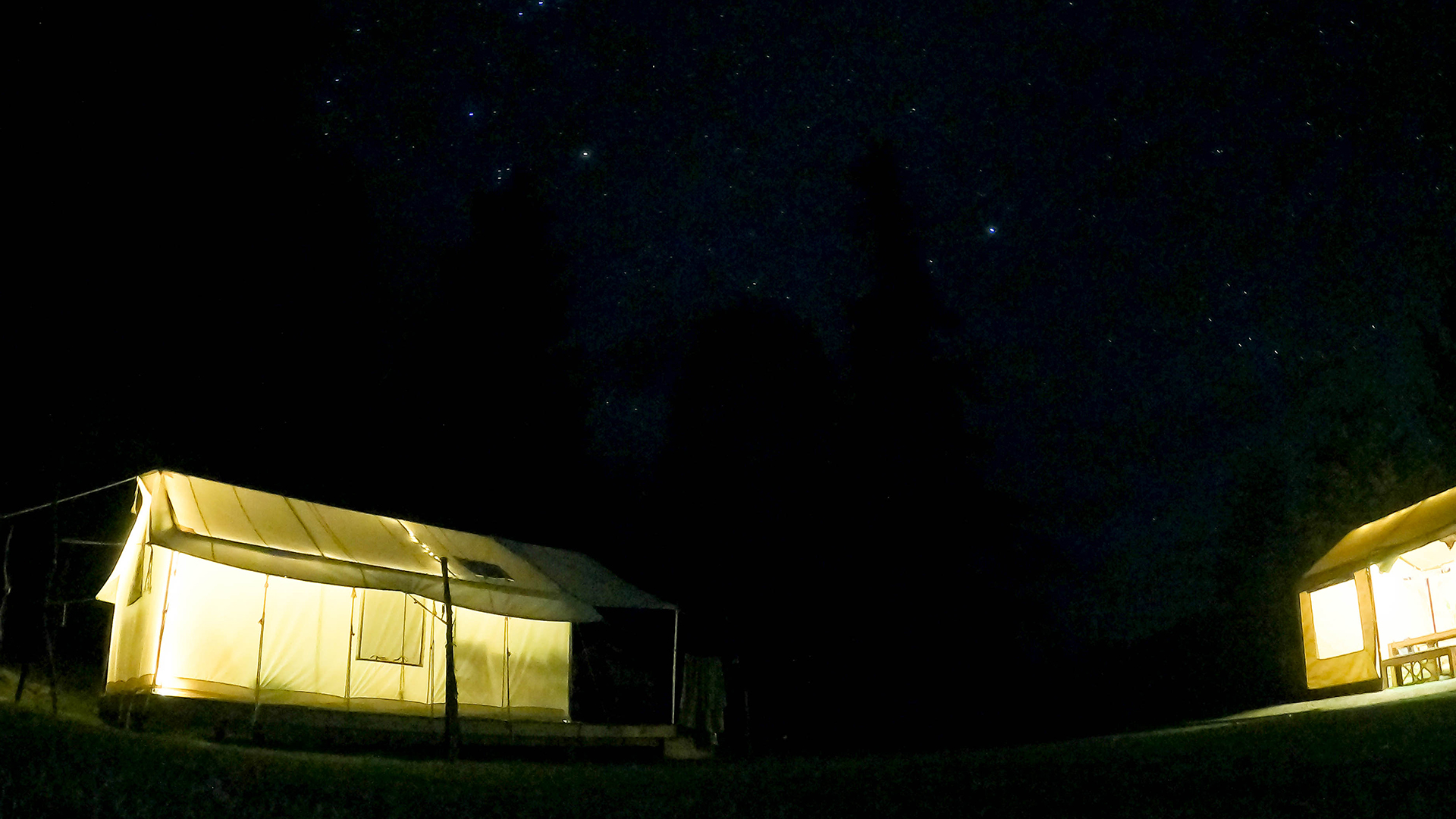 Before departing camp we made a pit stop at the Food Truck for a good cup of joe and some brekky. I went for homemade granola, delicious. Robbie had a salmon bagel that I barely got time to take a photo of before he demolished it, reports back are delicious too. We also checked out the new areas of the camp, events space, a cottage, and some super cool new dome tents – don't worry I already put my name down to grab one of those upon completion.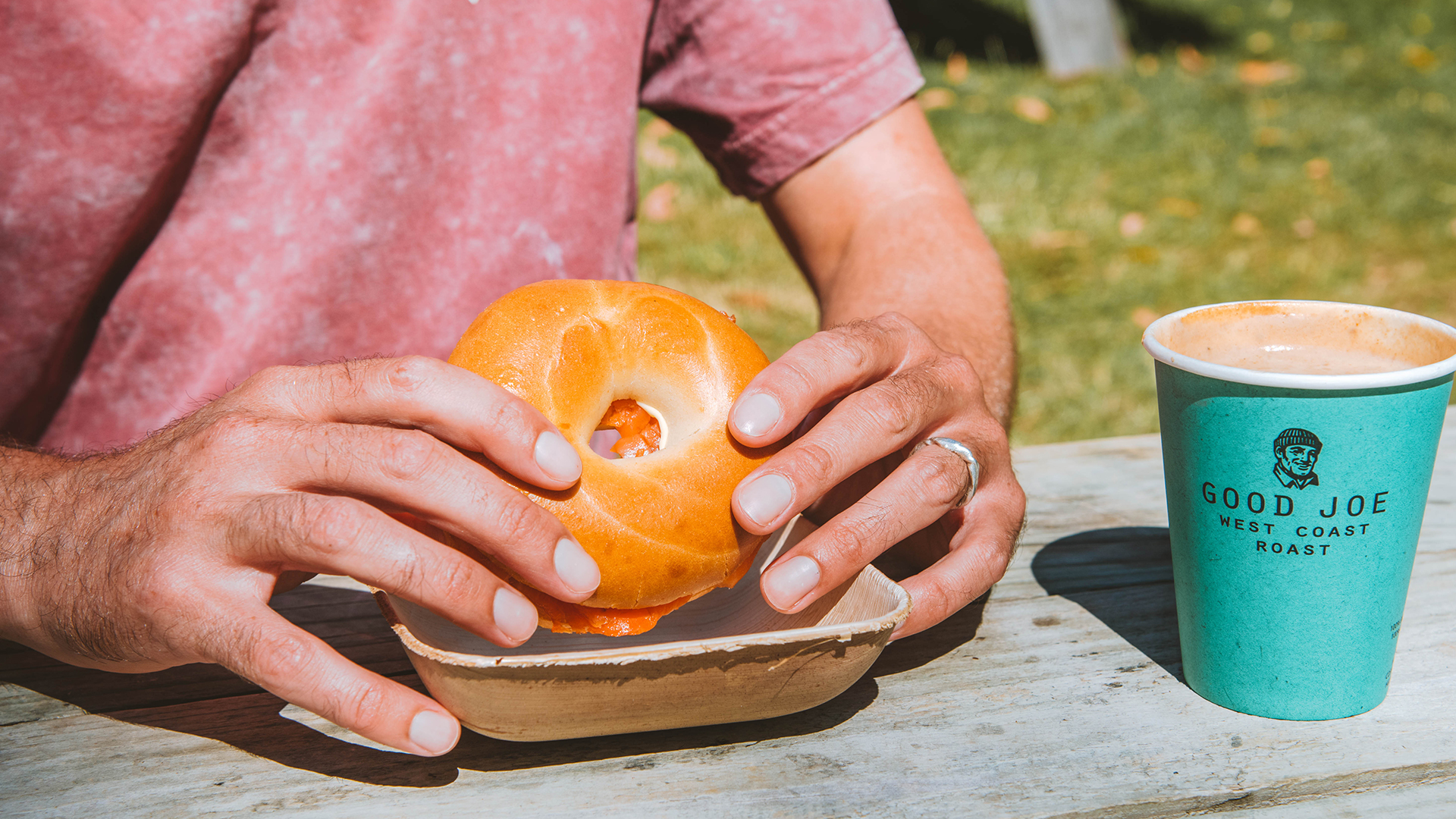 What a magical time away right here in our epic backyard. Lake Hāwea, you provided the best active adventure weekend filled with laughs, beautiful views, and enough relaxation to keep us going until our next escape.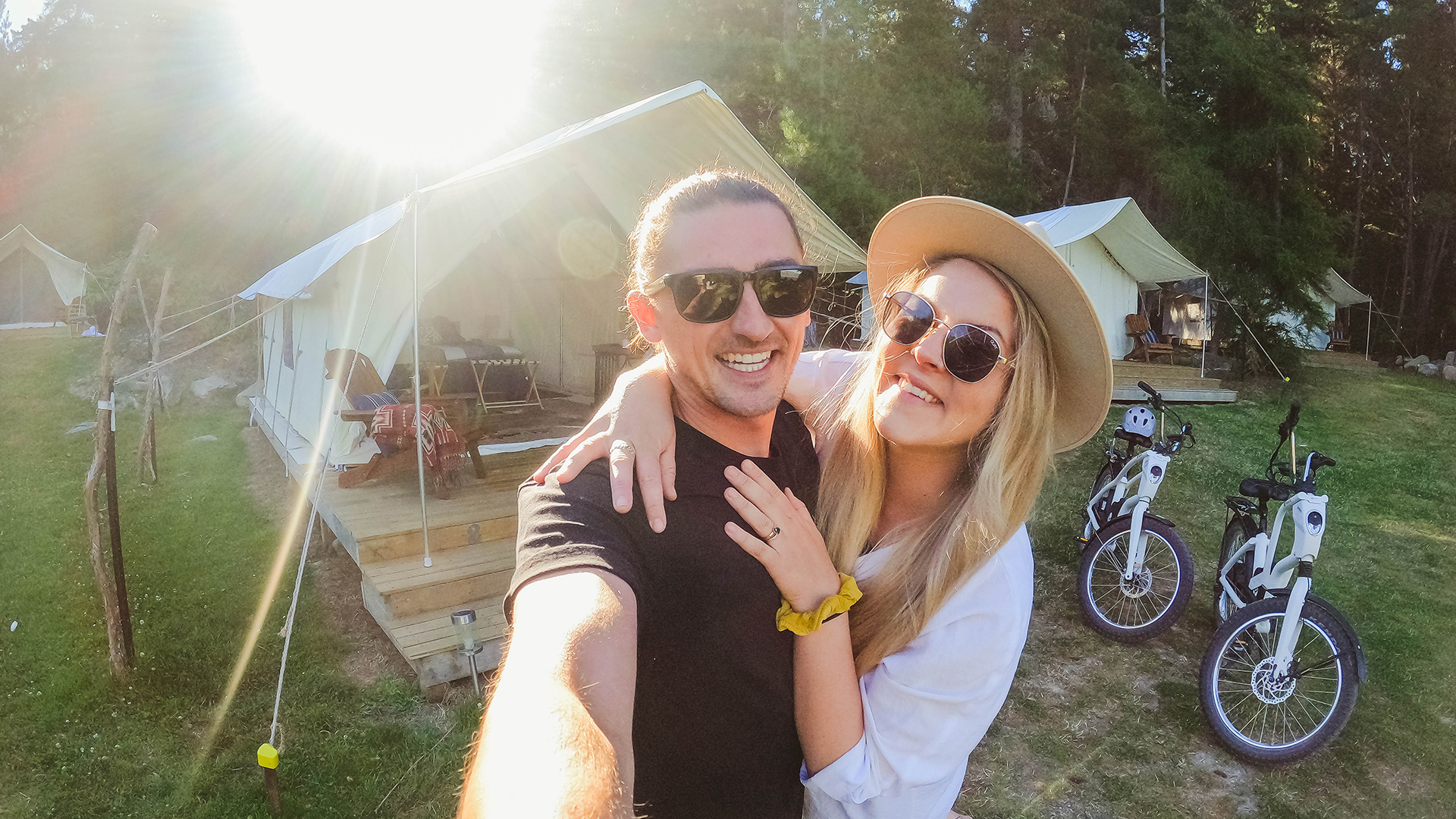 Want to book your own escape to Lake Hawea with your partner? Check out our romance packages.